Humans
The Rocking Engineer
Our engineers know how to be very creative and capable of organizing artistic and cultural initiatives that arise from their passions, that evolve along with mechanical design.
Jul 2022
How great is it to get back to singing your favorite songs at the top of your lungs under the lights of a stage and feel the rhythm of the music running through your veins?
In times of pandemic, this is a dream that has finally come true again. Rivoli Rocks is an event that has brought many young people back on stage and below it, fulfilling their desire to see each other, to meet up, to communicate, thanks in part to the valuable contribution of Alessandro Mortellaro and the association which he presides.
Alessandro began his career at Avio Aero in 1997 as an LPT Rotors Design Engineer, and today he holds the position of Consulting Engineer. Engineering is part of his DNA, not only academically but also professionally. In fact, his entire business journey has been in the Engineering Division, except for a brief stint as Program Director for the engines of client Pratt & Whitney Canada. And it was precisely in Rivoli - a small town on the outskirts of Turin, not far from the headquarters in Rivalta di Torino - that engineer Alessandro rediscovered his musical passion by combining it with an artistic project that also had strong social relevance.
So rock music is also part of your DNA: how did your passion for music come about?
"I owe my passion for playing music to my father; he played the clarinet. I, on the other hand, started playing the trumpet around the age of 10; however, I stopped a few years later... I decided to start playing again at a more 'mature' age, but this time I chose the guitar."
How did this beautiful project, Rivoli Rocks, come about?
"The 'RivoliRocks' event is the brainchild of the sumArte Association - of which I am currently president - founded by parents who met in school through their children and who are united by a passion for art and the belief that beauty is the way to grow. SumArte aims to organize opportunities for elementary, middle and high school children in the Rivoli area to meet and share through art and fun. We began by founding 'Genirock,' initially playing at schools attended by our children, and later collaborating with schools in the Rivoli area by creating songs with lyrics written by both children as well as teachers and professors. We created the Professor Rock project."
"After two difficult years, I think it's important for the kids to have a chance to experience again the deeper meaning of coming together and being together and bonding"
The idea Alessandro talks about was to have 100 local youngsters play five songs by the world-famous and long-running British band the Rolling Stones to celebrate their 60th anniversary. The result was an event - Rivoli Rocks - where students, singers and musicians from secondary schools (middle and high schools) became the stars, playing Jagger and his comrades, while at the same time meeting up in person again, exchanging smiles and practicing their art.
"After two years of pandemic and remote schooling, I think it's important for the kids to have a chance to experience again the deeper meaning of coming together and being together and bonding," says Alessandro before telling us a little more about how the event went.
"It went very well, beyond our expectations: some kids who didn't know each other created bands to play together: that was really one of our goals as an association! Rivoli Rock was held on May 22, in the sports field of UISP Rivoli Vallesusa. In the preceding period, our instrument and voice coaches helped the children learn the songs, having them meet and get to know each other during rehearsals. Side events also sprung up: we involved schools in initiatives such as the creation of a Rock-themed mural, which was painted by some students from liceo Darwin in Rivoli as part of their 'Writers of Rock' project. In addition, a contest was launched to create paintings with Rock as a common theme (some of which were exhibited during the event as part of the 'Colors of Rock' project). Then there was also a choreography workshop with music by the Rolling Stones, where the children used the "Art of Movement" as a tool for expression and creation (as part of the 'Dancer of Rock-Tok Tik; a creative fake' project). And finally, another association joined our event - the friends from 'Spazio X' (from Almese, province of Turin, ed.). One of the founders is Luca 'Vicio' Vicini (bass player of the famous Turin band, Subsonica, ed.), who performed, played and sung pieces composed by them together with the children and the bands."
Do you think musical or artistic vocations and skills are an addition to the engineering mindset and professionalism?
"I think having a passion is generally something that helps perform better in the work environment. This is because it distracts us from our daily worries and makes us more serene and relaxed to better cope with daily work. In particular, making music, or art more generally, stimulates the right hemisphere of our brain, bringing out our creative side. This also subconsciously helps when it comes to engineering work, where we perhaps predominantly use the left side of our brain. Today, in fact, a certain amount of creativity is required to find solutions to very complex challenges and problems affecting the aerospace industry of the future. Art and music are thus welcome, especially if they can help achieve a more creative approach in our everyday work activities."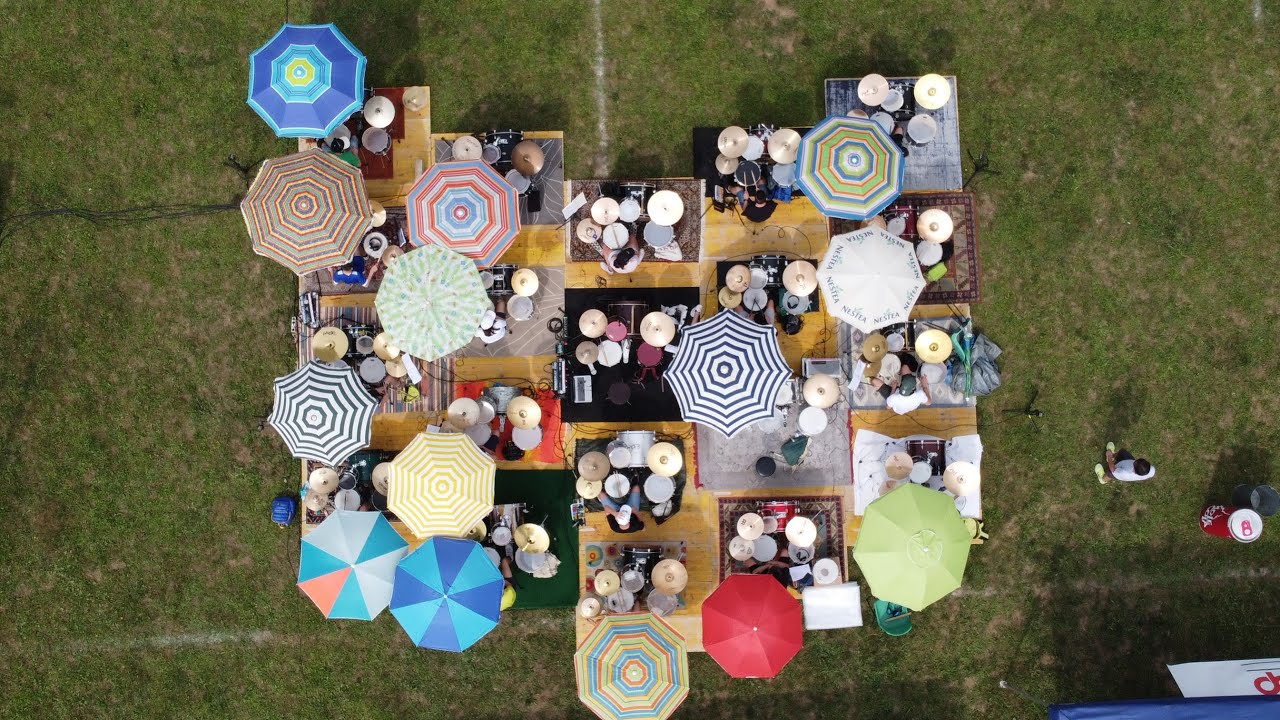 Images and video in page are courtesy of SumArte association, credits: Wanna-C