Future
The electrifying evolution of IRON
One of the most important decarbonization projects destined to change the future of the aeronautics industry is advancing through a new configuration featuring hybrid propulsion.
Jul 2019
"The engine architecture, its configuration, will necessarily also influence the aircraft architecture in order to pursue objectives such asperformance improvement or lighter components. In addition, combustion efficiency, which means lower fuel consumption, will take us increasingly in the direction of hybrid, or even fully electric, solutions". This statement made by the Head of Strategic Development of the most important aeronautics research institution Clean Sky2 -JU, Ron Van Manen, sounded almost prophetic exactly a year ago at the Farnborough air show.
And it is exactly that, because in the meantime the IRON project - a creative acronym that stands for innovative turboprop configuration , which was established with the mission to drastically reduce fuel consumption, noise and emissions of NOx and CO2 on future regional aircraft - is going through an evolution that "raises it to a new level of efficiency". Meaning, that it is investigating hybrid-electric solutions.
An evolution likewise predicted by the Head of the Research and Introduction of New Technologies Programs, Enrico Casale, when speaking about the relevance of the IRON project to Avio Aero. "Developing conventional turbofan and turboprop engines to achieve specific efficiency levels", he said last September, "requires radical solutions in terms of engine architecture".
Today, predictions have come true: and added to the two configurations that IRON started out with - the first for the development of a 90-seat regional aircraft powered by new generation turboprop engines, and the second for an Unducted Single-Fan engine for a 130-passenger aircraft - is the study of a 40-seat regional aircraft powered by a hybrid turboprop.
Giusi Galati, Collaborative Research Project Manager, works in the team with Casale and talks about how the project is going according to plans, but also how the new features in the engine architecture of this additional configuration is very challenging for everyone. "Our work on hybrid propulsion has been going on for several years now", explained the young manager, "but despite this, we are still at an early stage in terms of technological potential. Working in this area is highly strategic, since the vision of the future aeronautics industry definitively leads to a series of hybrid-electric solutions".
Indeed, we can already imagine the first aircraft in Europe with a hybrid engine: it will be very similar to an ATR42, with a maximum of 40 to 56 passengers, perhaps even smaller and certainly lighter since the materials are a crucial part of the technological challenge referred to by Giusi Galati. For the aircraft, as for the entire IRON project, the drive towards the targets and requirements is provided by one of the main industrial leaders for Clean Sky 2, Leonardo.
At the recent International Paris Air Show, held in Le Bourget, we talked about the aircraft, among other things, with Marco Protti, Deputy Chairman of the Clean Sky 2 Governing Board and VP Advanced Research at Leonardo Velivoli. "The projects that, as Leonardo, we're developing within the Clean Sky2 scope, let us pursue the target of reduction in fuel consumption and also allow us to take an optimistic look at the complex challenges that lie ahead. In other words, combine the continuous growth in air traffic with the need of strongly lowering its environmental impact."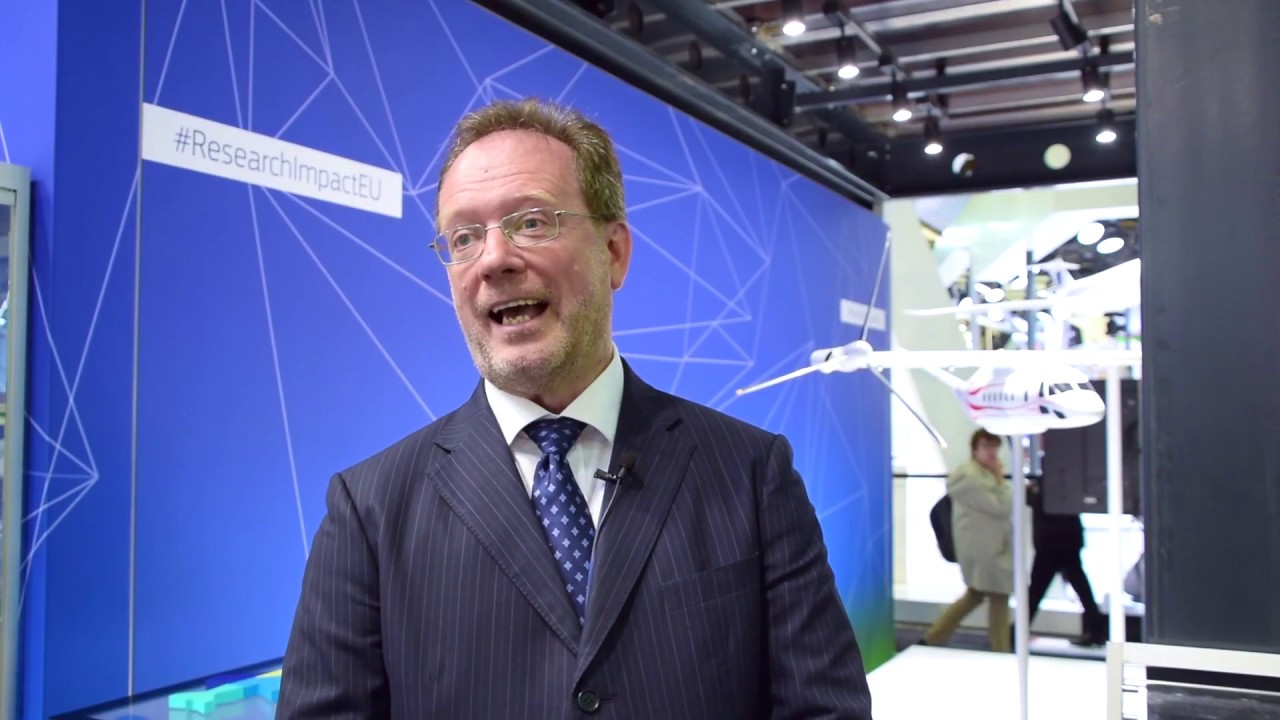 Protti particularly insists on the importance of goals sharing, that, in the case of the IRON project, is carried out in partnership with Avio Aero. "We have come together to define a strategy to address the main issues of this future challenge; we're exploring one of the most promising technology solutions, but now it is essential to ensure that what we're trying to develop complies with and responds to the set of rules and stringent requirements which feature aviation sector".
Similarly, and yet from Paris, Van Manen agrees with Protti on environmental impact issues and says he is optimistic because "the results show that teamwork - also with the involvement of European universities and research centers - works, and that reducing emissions and fuel consumption is an achievable goal; with an additional benefit in terms of performance as well as the operating costs for this type of regional aircraft".
Van Manen again highlights the issue of requirements, infrastructure and the characteristics of the aeronautics sector in parallel with the automotive industry. "When we talk about electric propulsion for urban road transport we are now talking about reality, and this will also soon be the case for civil aviation. Of course, reducing the weight of a car may be easier than for an airplane, but weight is definitely one of the keys to applying hybrid to propulsion."
"Working in this area is highly strategic, since the vision of the future aeronautics industry definitively leads to a series of hybrid-electric solutions"
This time, Clean Sky's Head of Strategic Development is not yet able to say with confidence where this type of study will lead, but he is very certain that the direction taken by the IRON project is the right one. Trying to obtain a prediction from Giusi Galati, who instead has a very practical approach, we discover that "we don't have so much time if we consider the targets of decarbonization and environmental impact reduction, and so we could be flying with a hybrid engine possibly as soon as 2030".
In light of past experiences, it is possible that even such prediction will come true!